Join Pr. Maria and Pr. Rory in our very own kitchens for a worship service complete with handwashing, scripture, Holy Communion, the stripping of the altar, and... cooking tutorials! Cook and worship together as we make unleavened bread and a simple soup while we hear the stories told on this important night and then gather around the table to eat. Remember to have some wine, juice or something else to drink also.
Communion Bread Recipe
From Luther Seminary to your table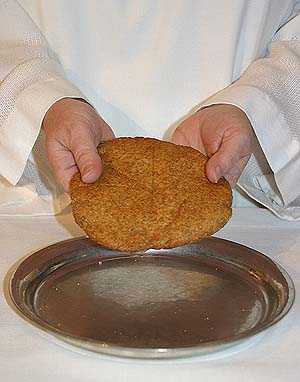 Sift dry ingredients together three times: (important!)
2 c whole wheat flour
1 c white flour
1 & 1/4 tsp baking powder
1 & 1/4 tsp salt
Stir in 4 tsp oil. Set aside.
Mix wet ingredients together until dissolved:
3/4 cup + 2 Tbsp very hot water (minimum of 180 degrees F)
3 Tbsp honey
3 Tbsp molasses
Add wet ingredients to dry ingredients and mix well. Dough should be slightly sticky. Do not knead.
Divide into four balls and flatten each into a 1/4 inch thick disk.
With a knife, score the top of each loaf into eight pie-shaped sections, so that the sections can be more easily broken off while serving. Alternatively, you could score a cross onto the loaf.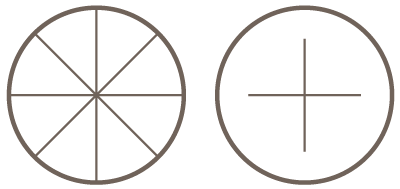 Lay the loaves on a baking sheet. Bake at 350 degrees for 10 minutes. Remove from oven and brush the tops of the loaves with oil. Bake an additional 5-8 minutes. Let cool.
Yield: four 8 oz. loaves. Each loaf serves 60-70 people, depending upon the size of the piece given. The loaves freeze well.
Red Lentil Soup with Lemon
Pretty quick vegetarian soup recipe that is slightly spicy, light and bright.
Ingredients
3 tablespoons olive oil, more for drizzling
1 large onion, chopped
2 garlic cloves, minced
1-2 large carrots, peeled and diced
1 tablespoon tomato paste
1 teaspoon ground cumin
¼ teaspoon kosher salt, more to taste
¼ teaspoon ground black pepper
Pinch of ground chile powder (or cayenne pepper), more to taste
1 quart chicken or vegetable broth
2 cups water
1 cup red lentils
Juice of ½ lemon, more to taste
3 tablespoons chopped fresh cilantro (optional)
Sour cream or plain yogurt for serving (optional)
Procedure
In a large pot, heat 3 tablespoons oil over high heat until hot and shimmering.
Add onion, garlic, and carrots and sauté until golden, about 5 minutes.
Stir in tomato paste, cumin, salt, black pepper and chili powder (or cayenne), and sauté for 2 minutes longer.
Add broth, 2 cups water and lentils. Bring to a simmer, then partially cover pot and turn heat to medium-low. Simmer until lentils are soft, about 30 minutes. Taste and add salt if necessary.
Using an immersion or regular blender, or a food processor, purée half the soup then add it back to pot. Soup should be somewhat chunky.
Reheat soup if necessary, then stir in lemon juice. Serve soup drizzled with good olive oil and garnish with cilantro, sour cream, and/or dusted lightly with chili powder if desired.